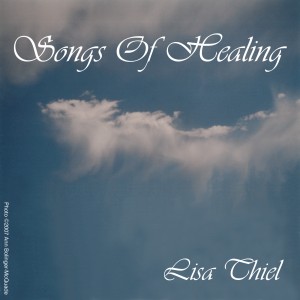 Its been a whirlwind month since the full moon of Beltane when I officially began this project. On this full moon today  I sent my new digital  album Songs Of Healing out into the world , which is now available as a  digital album or single song downloads  on my CD Baby  site- (click on :http://www.cdbaby.com/cd/lisathiel5  )and  should be on I-tunes within a couple of weeks . Im so happy to have these songs out  in a digital format, and to share my new songs which have been powerful healers for me. Ive been doing a Chenrezig practice for the last year ( mantra -Om Mani Peme Hung) who is the Buddha of Compassion , of which Kuan Yin and Tara are emanations.  On the chorus of this song I envisioned a choir of dakinis ( goddesses) singing  this prayer to the beings of this world.
The Blue Medicine Buddha practice is one Ive been doing for over ten years. It is a practice to heal the soul,  the psyche ,  and it is my experience and belief that spiritual healing is the cornerstone for all other types of healing. Doing this practice Ive dreamt of  extraordinary vivid blue waters, rivers, lakes, ocean  waves, and so chose to have the 'voice of the ocean' as a background symbolising the cleansing aspect of water that is similar to the energy I feel from the mantra
  Blue Medicine Buddha mantra: Tayatha Om Bhey Khandze Bhey Khandze Maha Bhey Khandze Bhey Khandze Radza Samu Gate Soha
(note- this is the Tibetan version of this mantra which was originally in sanskrit and of which there are many  variations due to different dialects)
There are numerous translations for this mantra, this is my own personal  interpretation based on all those that I have read: 
In the Sacred Name of All that is
I call to the great Buddha of Healing
O Supreme Eradicator of all ills, pain and suffering
O King of Healers, I send my prayer for healing to you
Into the great beyond, that you may hear me
So be it
 Ive included another Tibetan mantra from Prayers for the Planet, ' Om Ami Dewa Hri , that ' invokes the Buddha Amitabha, who presides over the pureland (heavenly realm )Dewachen. This is also a very powerful healing mantra for the spirit and is often used for those crossing over as a blessing, as is the Blue Medicine Buddha mantra. In addition there are songs to the goddess, the angels ( the shining ones) and to the earth , songs that have healed my heart & soul over these  many years. I share them in hopes they will do the same for  all who listen .
By the way this is a real photograph of a cloud on the cover by Ann Bolinger- McQuade, author of the upcoming  book, Every Day Oracles.      http://www.oraclesinthesky.com
Hoping to have the physical CDs done by Summer Solstice!!!!!