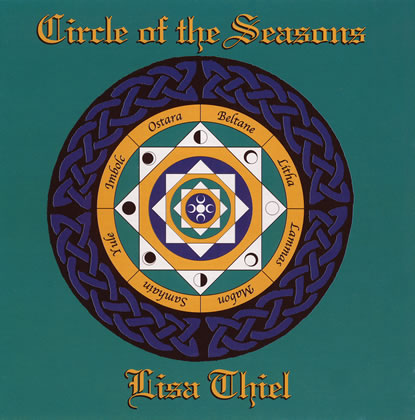 ~Music for healing and Ritual~ an innovative musical portrayal of the Celtic Wheel of the Year. With all new songs for each Sacred Holiday, this work represents a culmination of twenty years of Lisa's experiences following this ancient path. Featuring beautiful instrumentation from the creative talents of multi instrumentalist David Macvittie and violinist Anna Schaad, including, Kaan, Pipes, Irish Cittern, Silver flute, Gypsy Bouzouki, Viola and Violin, this work is captivating with its myriad magical sounds and deeply inspiring lyrics.
"A mystical tapestry of poetic lyricism certain to stir the soul." Music Design
"Another remarkable blending of tune, voice, and words. Whenever I feel the need to balance and return to my core I simply click on "Lisa" in my media library" Susan Keyes, AZ
"and all those who love and utilize women's and earth-centered spirituality music: this gorgeous collection could be Lisa's best to date" Ladyslipper Music
Press one of the following song titles to listen to a sound clip:
Lisa's Music is available on Spotify, Apple/
Itunes, Amazon and Pandora.